Pete Townshend has got to be just about my favorite musician of all time. He is an intelligent, romantic, ugly, angry man who channels all these things through his amazing songs and his guitar which in his hands becomes a machine gun of sound.
One of my favorite things about his best work, both solo and with The Who, is that is has virtually no appeal to women whatsoever. His music is the sound of frustration, of being misunderstood, of being ordinary, and unable to communicate with girls. His songs are very open and honest while musically thundering and complex. His early songs were about the pain of adolescence and his confessional style continued through the years to document his drug and alcohol addictions in the 70's.
Today, he is still playing some remarkably fierce guitar with The Who, and his songs still have all those great qualities.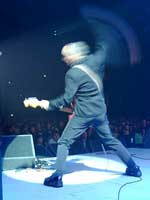 I picked up their new greatest hits album today, and it featured a couple brand new songs on it. One of them was called "Real Good Looking Boy", and I couldn't help but smile and be affected by it, rembering growing up and wanting so badly to be cool. I think that part of the reason why the song touched me the way it did has something to do with where I'm at in life at this point, but the song really hit close to home for me in a great way.
When I think back to the
first time in my childhood
When I saw that face
I thought right then,
'That's a real good looking boy.'

I saw myself in the mirror
in profile for the first time
I thought,
'Hey! That's a real good looking boy'

So I went to my mother
I said,
'Hey mom – take look at me'
Have you ever seen a teen
Fly so high?

That's a real good looking boy

She said,
'Son, well, you know,
you're an ugly boy.
You don't really look like him.

In this long line
There's been some real strange genes
You've got 'em all
With some extras thrown in

That's a real good looking boy

Now I'm here with you little darling
And you say, 'You're beautiful as you are'
And I've managed somehow to survive

You arrived in my life like a fragrance
And helped me find a way to laugh
And I know now so-called beauty lies

God gave me a face
Then he gave me something above
God gave me grace
Then he gave me your sweet, sweet, sweet love

You make me feel like a real good looking boy
I feel like a real good looking boy
That's a real good looking boy